Return to Headlines
Marco Cenabre Named New Haven Teacher of the Year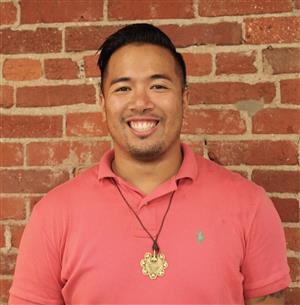 Marco Cenabre, English Teacher at New Haven Academy, has been selected as 2023-2024 New Haven Public Schools Teacher of the Year. He will be the district's applicant for Connecticut Teacher of the Year.
A panel (listed below) interviewed the three 2023 TAPS Teacher award winners to select the district's Teacher of the Year.
"We in New Haven are fortunate to have teachers of the caliber of those nominated by their peers for TAPS awards," said Superintendent Madeline Negrón. "Mr. Cenabre is clearly a leader committed to achieving the highest standards of teaching, not only in his own classroom but across the district. We are proud to have him represent New Haven as our Teacher of the Year."
Mr. Cenabre was born and raised in New Haven and is a proud graduate of both Conte West Hills School and Wilbur Cross High School. He currently teaches English Language Arts at New Haven Academy, and is also the lead designer of the NHA schoolwide advisory curriculum. At NHA, he leads the Senior Leader program: Each year a group of 20 to 25 upperclassmen participate in ongoing training to develop their skills in leadership, mentorship, and restorative practices, then use their skills in various ways to contribute to the collective improvement of school culture. Mr. Cenabre prides himself in being an ongoing learner, a conscious educator, always seeking new ways to learn and improve while grounding his decisions through principles in culturally sustaining and anti-racist pedagogy. He has been awarded numerous paid teaching fellowships through different organizations including The Yale Teachers Institute, The Abolitionist Teaching Network, The Ramsden Project, and SELinAction.
Mr. Cenabre is engaged in equity initiatives at the local and national level. On top of being a union delegate representing the New Haven Federation of Teachers (Local 933), he is a Teacher-Organizer for the Anti-Racist Teaching and Learning Collective. This past school year, through a collaboration of the ARTLC and NHPS, he led two ambitious professional development programs for teachers. He spearheaded the The Anti-Racist Teachers Institute, a 10-week professional development series dedicated to anti-racist and culturally responsive teaching. Over 30 teachers, representing 17 different NHPS schools, successfully completed the institute. Teachers walked away with not only refined knowledge and tools but also plans for immediate implementation.
As co-organizer of the annual NHPS summer virtual conference on Culturally Relevant Pedagogy, Mr. Cenabre has curated an exceptional lineup of workshop facilitators which have featured national organizations such as Zinn Education, Rethink Education, the 1619 Project, as well as local organizations such as The Word, Students for Educational Justice, and the Mohegan Tribe. The third annual conference will be happening this August; over 140 teachers have already signed up.
The other two TAPS Teacher award winners are Furahi Achebe, Technology Education Teacher at Metropolitan Business Academy and Nathaniel Bradshaw, Home Economics Teacher at Wilbur Cross High School.
The panelists who made the Teacher of the Year selection were:
Leslie Blatteau, President New Haven Federation of Teachers
Michele Bonanno, Supervisor of Magnet and Grant Programs
Sarah Diggs, Coordinator of Recruitment and Retention
Jennifer Dinan, Instructional Coach at John S. Martinez, 2022 T.A.P.S Teacher Award Winner
Rosalind Garcia, Principal at Lincoln-Basset School and School Administrators Association of New Haven Vice President
Edith Johnson, Director of Professional Learning and Leadership Development
Hyclis Williams, Outreach Worker at Dr. Reginald Mayo and Local 3429 President